Hello!
I'm popping in this afternoon between household chores and projects to share a card I made this past weekend. I'm beginning a project I've been dying to do since we moved in. Staining the back stairs leading in from the garage (almost finished!) and painting the risers and handrails a nice glossy, warm white. I will also repaint the door and trim to freshen it up and make sure it's the same white. Have you ever taken a peek at all the whites available at the paint store? WOW. I was never so confused. I had to take a look at a brochure about the warms and cools and what I was painting etc, etc, to figure out which color to pick. Speaking from experience, spending time painting only to decide the color doesn't work is not fun. Ask me how I know. :D
On to the fun part! My card. And since I'm waning in the crafty mojo department, this feels like an accomplisment - to actually finish a card
and
share it. I don't have a shortage of ideas for new cards, but I just haven't had much/any crafty energy lately. I seem to bounce around between my hobbies and when I'm all into one, the others are neglected. Apparently, I have something of a one track mind? You learn something every day. Even if it's about yourself, you can learn something at the ripe old age of smech-blach. And, that's all I'm going to say about that.
This is one I had in mind to make for this years
MFT Card Design Superstar contest
. And what a contest! I've already seen so many fabulous entries! It's quite intimidating. I can't wait to have some time to sit down and go through them more closely and share some "love". :)
I made a little couple out of my dies from the LLD Hug in a Mug stamp and die set. I added googly eyes and hand-drawn eyelashes on the lady mug. She got a pink peppermint and Mr. Mug got a piece of chocolate. They are both little shakers using the heart that comes with the set. I used white pigment ink and the Typewriter Text background stamp on Kraft cardstock before adding the elements and stamping the heart and sentiment (all from the same set). I thought it would be fun to do something different with these dies. I've used them a ton since I got - as this is one of my very favorite sets. :D Just a little cutesy, fun change. :)
I'm also playing along with the current
Cut It Up challenge
- Name Game. You are to add an element to your project based on the first letter of your name. So "M" from Mandy --> mugs.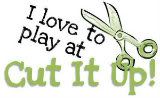 Ok - that's all for me now. I've got one of the little vultures circling about wanting the laptop. (Eye roll). How would they live without their electronics??? Oh the travesty that would be! Gee whiz.
Thanks so much for stopping by to visit. Please come back soon! I hope to whip out a few more cards for which I have ideas. That requires two things though: execution and blogging about it! haha.
God bless,
Mandy
Pin It