Hello!
I'm popping in tonight to share a fun little card I crafted today in my limited crafty time this morning. The Piglets went back to school today, but only for a half day. I had a short time to tidy up and take care of some things (including a card! 8-} ) before I had to go back and pick them up. I am sad for them to go back, as always, but do prefer us all being on a "schedule". I just hate missing out on our outside time in the evenings. If you live in the humid South, that's the only time to enjoy the great outdoors. :( Boo. About the time they have to shower and get ready for bed is the best time to be outside! Drat. The good news is they are excited to go back - even though they miss being at home. I miss them being here - that's for sure. :)
On to my card! I used the
Digi Baby Sea Turtle
from
Digi Box Designs
to create this fairly CAS card.
I colored him up with Copic markers after printing on 110lb. Neenah Solar White cardstock. I used my Silhouette PixScan mat to cut him out and he's layered over scraps of pinked-edge paper using foam tape. I stamped the "hi" border using the Salutations stamps from Paper Smooches. I used a scrap of Lawn Fawn "hello sunshine" paper at the top corner and layered a hand-trimmed "How R U" stamp from Altenew's Label Love set. I finished it all off with twine tied through a button. Easy-peasy! :)
I'm playing along with the
Cut It Up
- Summertime Memories challenge,
Inkspirational
- 'Dip' word prompt challenge, and
Just Us Girls - Water challenge.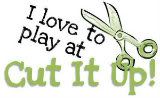 That's it for me tonight. Thanks so much for stopping by to visit! Please come back again soon. :)
God Bless,
Mandy
Pin It