Hello!
I'm here to share a couple of cards I've made over the weekend with my (way too limited) crafty time. I'm hoping for a more relaxing week where we can all get some rest. After several weeks of running all over the county, we need to chill out and I'm hoping to get rid of some allergy issues by resting up. Hopefully, that will mean a little extra crafting, too. ;) Hee hee.
For my first card, I relaxed late one night with some old, classic TV, a bunch of paper piecing, and my PS Wake Up set. I've been on a piecing kick lately and I want to do it with all my stamps. It's kind of fun to prep several and then have them ready for a card-a-thon when the mojo strikes. (Not that it's striking me alot lately. Boo!)
I started by sponging MFT inks In the Buff and Pineapple, then stamping and masking my scene. I then stamped each image again on my paper scraps and made little piles that went with each image. Then I could sit back and trim away and layer on with a glue pen. I have to be "in a mood" to do all that hand trimming, but I've realized I kind of enjoy it - and it's fun to see all the different looks you can get from the same stamps.
I used the sketch from
CASE this Sketch
for my card design.
I'm also playing along with
AAA Cards
- Use a Stash Favorite (patterned paper) and
Simon Says Stamp - Wednesday Challenge
- Create a Scene.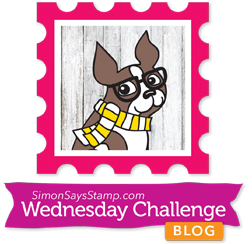 For my next card, I did a bunch of masking, stamping, and coloring. :) Great "Veg-out" work - no pun intended here. Ha!
Edited: Cleaner version of card! I wasn't happy with my original card base.
I stamped the tomatoes from the Green Thumb set repeatedly in a stack before stamping the last poor little tomato upside down and on the ground. He didn't make it. :) I colored them with Copic markers and added the little snail, sentiment, and lines after I sponged the background.
I wanted to play along with the current
Paper Smooches
"Summer" challenge and since I live in the South, nothing says summer like fresh tomatoes.
I'm also playing along with
Cards in Envy
- "Heat Wave" challenge for summer cards and the
Simply Less Is More - "Repetition" challenge
.
Well. That's all for me now. it's only taken me two or three tries to write this post. Ha. I'm sure I'm not the only one with that problem sometimes. Thanks SO much for stopping by - I so appreciate having visitors here in my little blogland. Hope you are having a great week and know that God loves you! :)
God Bless,
Mandy
Pin It